Wynter
---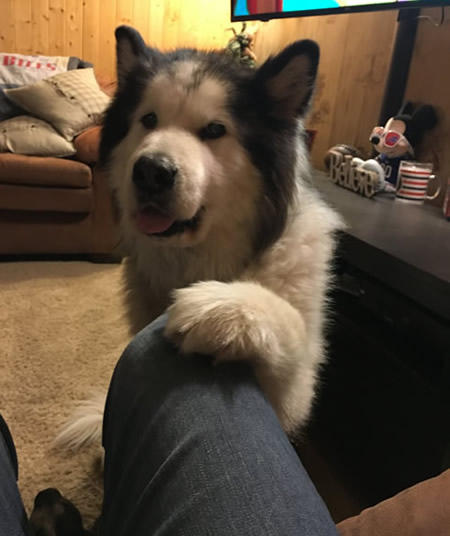 With us from September 4th, 2018
Wynter's Story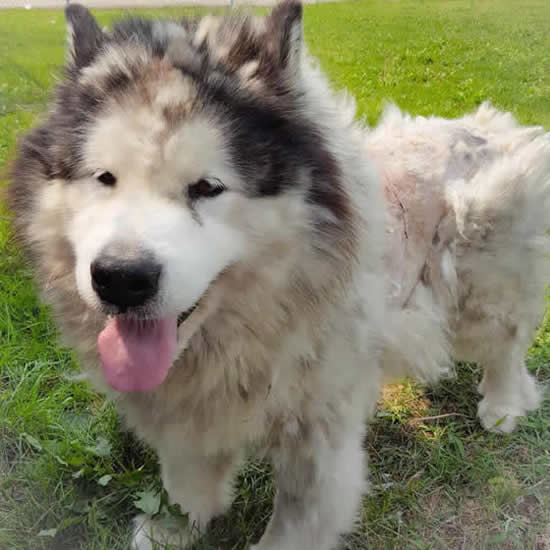 Like so many of our previous dogs we stumbled upon Wynter completely by accident. We were following along with the Arctic Rescue Facebook page, like we often do, and came across this poor looking malamute. We were currently down to two dogs again, Oreo and Tiffy after having lost Jackson earlier in the year, and we felt that perhaps we could take on a new dog. She just looked like the sweetest dog in the world. Named Olive by the rescue, we found out that she was found wandering fields. She had been out for so long that these things called foxtails had imbedded themselves all over her skin and in her mouth and her fur was totally tangled and matted down.
She was so bad that the rescue needed to have her shaved clean. And if there is one thing you NEVER do to an arctic breed is shave them, unless it is an extreme last resort. Arctic Rescue of course knows this, so you know she was bad. You can see some of the cuts and matted hair in this rescue picture to the right. She was in very rough shape. But despite ALL of that, she was the sweetest girl ever. She would look at you with her mouth open in a smile and these big brown eyes that just said "Love me". And we did. How could you not? The foster family didn't even want to see her go because of how sweet she was.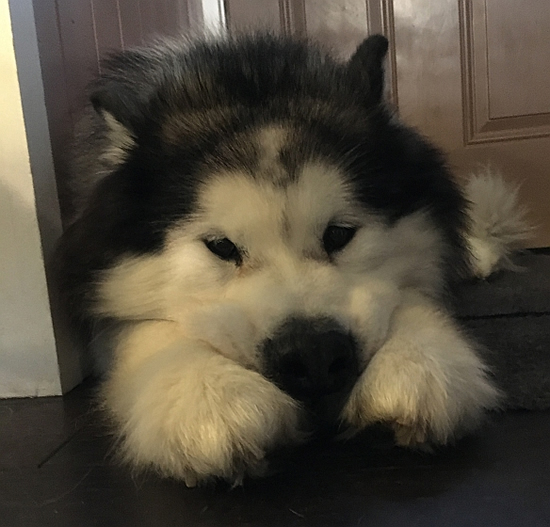 We were hoping to adopt her towards the end of September because we had a big trip coming up and we didn't want her to have to go to a kennel for our vacation but it couldn't wait. She ended up coming come with us fairly soon after we first met her. She was named Olive by the rescue but we allowed Gummy Bear to rename her. Her new name is now Wynter Wyddles Lehane. She spent much of the first couple of months with us routinely visiting the vet to make sure we got everything under control. She had surgery to remove several of the imbedded foxtails. She also had some in her mouth that needed surgery. She also eventually had a few teeth that rotted out and needed to be removed. These caused us big issues because she acted completely normal, however her breath would get worse and worse. We thought it was the poop we would catch her eating but even though we got around that by always cleaning up the back yard and giving her breath treats it didn't help. We eventually took her back to the vet to find out three of her teeth needed to come out. But the poor baby is doing much better since.
Wynter is so funny with the other dogs. When we first got her home, Oreo was immediately submissive to her, something that I have never seen before. It helps that Wynter is literally twice her size at 95 pounds. She also rarely barked, but as she has gotten more comfortable around us and the other dogs, she has gotten a lot more vocal. During feeding times she is the most vocal, letting everyone know that she is hungry and to not get in her way. She has this deep chirp of a bark that was hilarious when we first heard it because I've never heard a bark quite like that before. She loves to climb up and cuddle on the couch with us, when allowed. And just loves getting attention. I always find it so hard to imagine he just being abandoned.
We found out from the chip that was under all her matted fur that we was originally from a breeder and she was a 10 year old Woolly Malamute. She had been through the same shelter twice and was in desperate need of a final home. That's where we are so glad we found her because she will always have a place with us. She is our floofer and we are loving her and all her floofyness with all our might.
---
Some Pictures of Wynter
Pictures are roughly in chronological order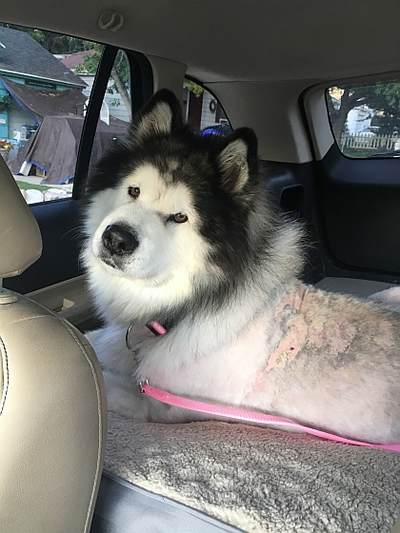 This is Wynter being driven home from her foster family. They took great care of her and had gotten a lot of her cuts cleaned up.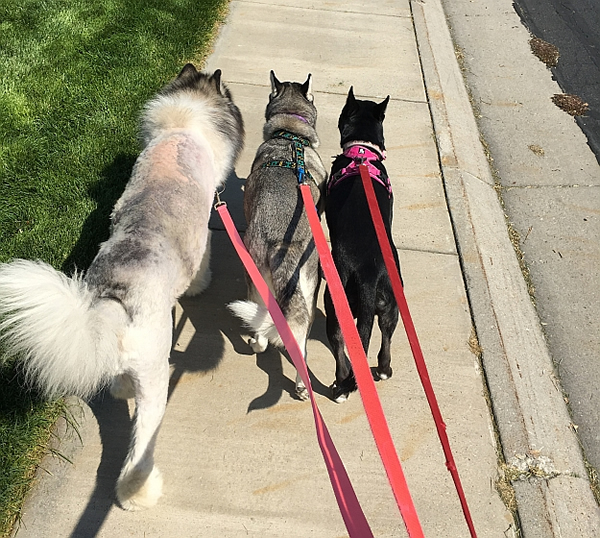 A walk with all three of the new puppies.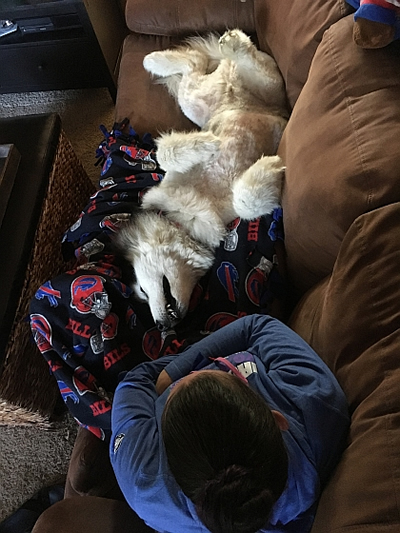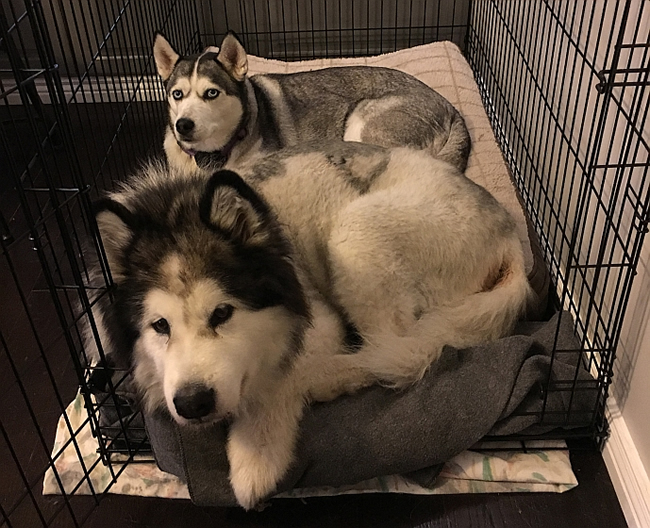 Her coat has started to come back in. Fish oil has helped keep it healthy.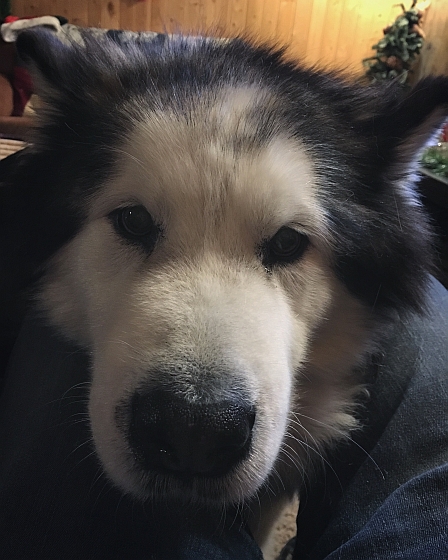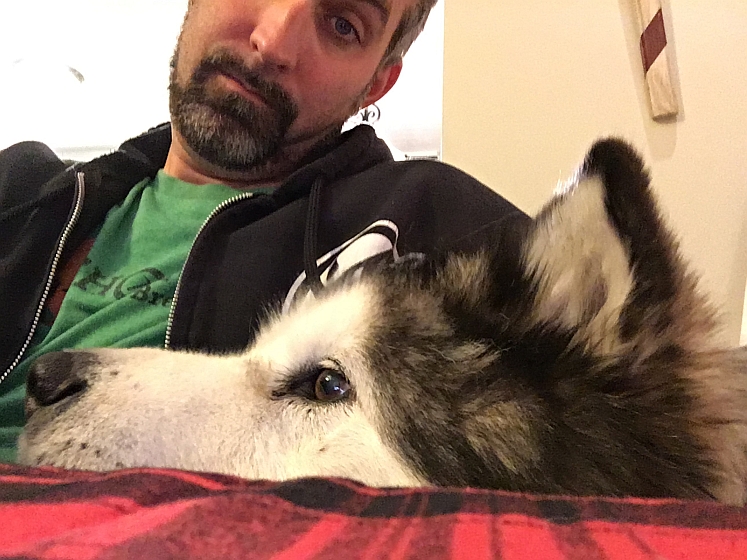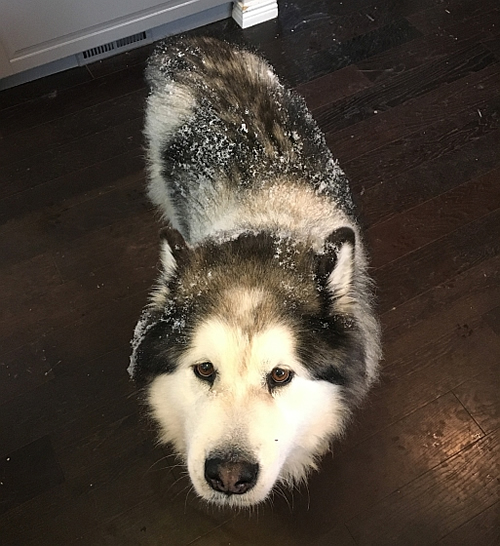 She loves to lay out in snow drifts during the winter.